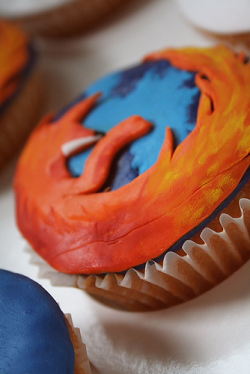 Have you ever been browsing the internet, opened a new link, and suddenly had your entire browser window change size?  This is a trick that web developers can easily do with JavaScript (and was heavily used in the "older" days of the internet) but has become a nuisance in modern times.  If I've got a pile of tabs open, I don't like my newly-opened tab kicking my browser to 680×480 just because an antique webpage was built to that resolution.
If you're using Firefox, there is a very simple way to prevent websites from resizing your browser window without disabling JavaScript altogether.  Sure, disabling JavaScript is the kill-all solution (and would be more secure for your browser), but there are way too many legitimate uses for JavaScript for me to suggest doing that.
Disabling JavaScript's Ability to Resize Your Browser Window in Firefox
Note: In this guide, I'll be using Firefox version 3.6.8.  Details in this procedure may vary according to your version.
Step 1: In Firefox, click Tools then select Options.
Step 2: Click the Content tab, then click the Advanced… button to the right of Enable JavaScript.

Step 3: Uncheck the box that says "Move or resize existing windows".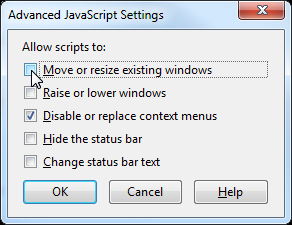 That's it!  Those pesky websites won't be able to resize your browser window anymore.  Make sure to check out the rest of our articles about Firefox!
Image credit:
Mixy Lorenzo
(seriously, how good does that cupcake look?)