The wait is over, everybody: Kevin and I are back for another exciting installment of our Android App Roundup series.  This week, I'll be covering Touiteur, a great Twitter client, and Kevin will tell you about ROM Manager, the easiest way to install custom ROMs on your rooted phone.
As always, if you have any tips on apps we should check out, post in the comments at the end of this article, send us an email, or hit either of us on Twitter.
Evan's Pick – Touiteur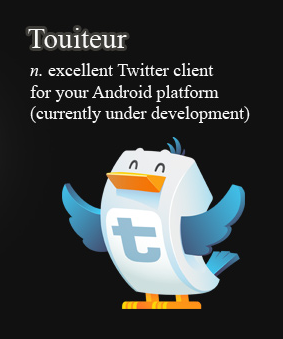 I use Twitter quite a bit, so a Twitter client is one of the most used apps on my smart phone (besides email and a web browser).  When I got my first Android phone last November, I made a point to try every client available to find the one that fit my needs the best.
Touiteur (pronounced like Twitter with a French accent) is, in my opinion, the absolute best Twitter app currently available for Android.  It's made by the same developer that made Beautiful Widgets (the long-time holder of the #1 most purchased paid app in the Android Market), so you know there's some talent behind the software.
I've been using Touiteur throughout its development, and I've been amazed at how fast the developer was able to add every feature I needed in a Twitter client.  This app does everything you could want in Twitter, and makes it look really good.  Touiteur offers a smooth, highly refined user interface and provides innovative features.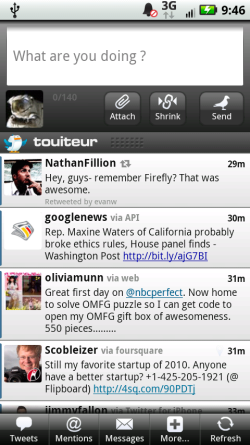 Touiteur can be downloaded completely free from the Android market, and you can purchase the Premium version (which I eagerly did) to unlock several extra features such as multiple accounts, multiple widget sizes, and more customization options like a light theme.  The 4×1 Touiteur widget is the main focus of my Home screen.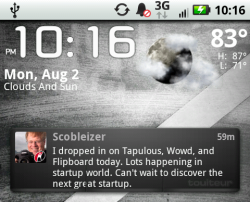 This app is awesome.  If you use Twitter, give it a try, it's one of the best apps available in the Android Market.  If you want to see some more images, check out the Touiteur homepage.

Kevin's Pick – ROM Manager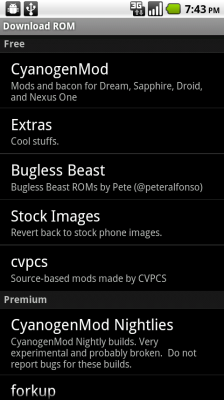 If there is an application that nearly everyone who roots their phone or flashes custom ROMs has installed, it's ROM Manager. It simplifies the process of backing up your current ROM and flashing a new one to the point that nearly anyone is capable of doing it.
ROM Manager sports a very simple interface. It isn't fancy, but gets the job done. The main menu presents you with everything you might need, from flashing the bootloader that ROM Manager uses to backing up the ROM you're running and flashing a new one.
Download the free version of ROM Manager and you're able to flash new ROMs from the SD Card, but it's well worth shelling out $4 for the premium version, which allows you to download new ROMs directly in ROM Manager. Both version have ads by default, but ClockworkMod lets you turn them off in the options menu if you'd like.
Installation of new ROMs couldn't be easier. After backing up your current ROM (just in case something goes wrong) select the 'Download ROM' option from the main menu to be presented with a list of ROMs currently available for your device. Click on a ROM release and you're taken to another subscreen with all of the versions available for that ROM. Select your version, answer a few installation questions, and the ROM starts downloading. When it finishes you'll be prompted to restart your phone, after which the ROM you downloaded will be flashed automatically. Once that process finishes, reboot and enjoy your shiny new install!
ROM Manager is an essential application if you're at all interested in custom ROMs, and I can't recommend it enough. If you'd like to give it a spin, download the free version by scanning the QR code below.