Anyone who owns an Android phone already knows that Google's operating system provides a tremendous amount of freedom right out of the box. If you want to take full advantage of your device, though, your best option is to root it.  ("Rooting" is the process of unlocking root permissions on your phone, like jailbreaking an iPhone or using the sudo command in Linux.)
Rooting your phone gives you unparalleled access to every aspect of your device. It allows you to download tons of root-only applications, push your hardware to new heights, and on some devices even flash different, customized versions of Android. So what are some of the advantages of gaining root access?
Access to New Versions of Android
Non-root users are at the mercy of phone manufacturers and wireless carriers when a new version of Android rolls out. Relatively new phones like the Motorola Droid still don't have a scheduled release date for Android 2.2. Users of phones that include a custom interface like the HTC Incredible or EVO 4G are looking at an even longer wait while the manufacturer integrates their UI into Android. If you're using an older phone like the HTC Dream (T-Mobile G1) you'll probably never see an official release of Froyo.
Meanwhile, root Android users have had access to 2.2 for more than a month. Stock versions of Froyo have been available for a while, and the popular custom ROM CyanogenMod recently made its first release candidate version available. There's no wondering when you will see an official release for your device, if at all. As soon as someone compiles and releases a version for your phone you can download and install it.
Breathe New Life Into Your Aging Device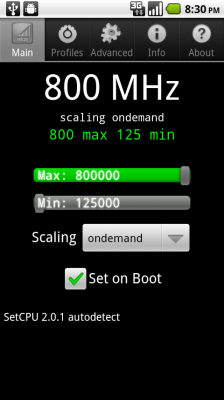 Even though it was released just last November, the Motorola Droid is starting to show its age. It's 550MHz processor just can't stand up to the 1GHz processors phones are packing today, much less with whatever the future holds. If you have root access, though, there's something you can do about that.
Thanks to an awesome application called SetCPU, you can easily overclock the CPU to give you a little extra power. Even better, SetCPU dynamically clocks your processor. If it's idle the CPU only runs at 125MHz. Once it needs the extra power it cranks the CPU up to whatever you set the max at.
The Droid can be stably overclocked to 800MHz, and can even go higher if you want to risk it. I've found that 800MHz offers plenty of juice without sacrificing much in the way of heat or battery life.
Access Apps Only Available to Root Users
Along with the aforementioned SetCPU, there are loads of excellent root only applications. ROM Manager makes it easy to flash Custom ROMs to your phone. It takes care of the entire process for you, including downloading the ROM, restarting your phone, and flashing it. Before you wipe your phone's memory you can backup all of your applications with one click using Titanium Backup. Once your new ROM is flashed you can reload them with another click.
On a non-rooted phone the process to take screenshots is pretty convoluted. It involves downloading the Android SDK and running the DDMS, which isn't very intuitive. On a rooted phone you can take your pick from several screenshot apps that can do it directly in Android.
ASTRO is a very nice file manager, but with root access you can do so much more. Root Explorer comes with a SQLite Viewer, which will come in handy now that you have access to the /data/data folder on the SD Card.
This partial list only scratches the surface of root applications. With a little looking around you can find much, much more.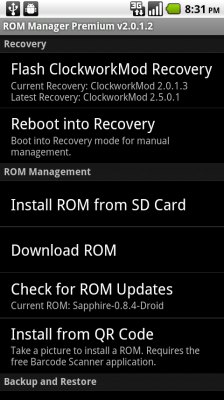 Use Features Not Available In Stock Android
With custom ROMs come tons of features not available to stock Android users. The previously mentioned CyanogenMod comes packed with extras. FLAC support, installing apps to the SD Card without Froyo, and full 360 degree orientation changing are just a few of the features that CyanogenMod has to offer. If you want to, you can even pair a Bluetooth mouse with your phone and use it for navigation.
With all of these advantages, why isn't everyone rooting their phone? Unfortunately, rooting does have a few downsides.
Disadvantages To Rooting Your Phone
The most significant disadvantage to rooting is that it voids your warranty. If something happens to your phone, even it would normally still be under warranty, you're out of luck. Some people were born to void warranties, but it definitely doesn't appeal to everyone.
Depending on how aggressive you get with your overclocking, there's also the potential for permanent damage. Push the CPU too far and you might burn it out. Even if you play it safe overclocking still reduces the lifespan of your processor.
Finally, some phones aren't able to take full advantage of root access. The recently released Droid X is a prime example. Root access can be gained, but thanks to eFUSE it isn't yet possible to flash Custom ROMs. Reports on the Droid X still aren't crystal clear, but it appears that the phone won't boot unless it detects an official bootloader. What this means is that until that safety measure is cracked, users of the Droid X aren't able to take advantage of one of the best features of root access, flashing custom ROMs. We can only hope that Motorola doesn't continue this trend on future devices and that other manufacturers don't start employing similar schemes.
Even if you end up not doing it, I hope I've provided some insight into the advantages of root Android usage. If you have any questions or comments, feel free to leave them below!