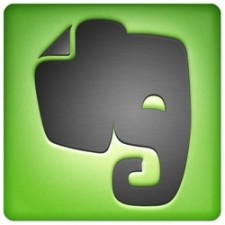 The popular note taking software Evernote has announced a new feature called The Evernote Trunk.
The Evernote Trunk is a collection of Evernote integrated applications that make use of the Evernote Developer API.  The Evernote Trunk makes these 3rd party applications easily available to you in the Evernote interface on your desktop, web, and soon the iPad.
To get started using The Evernote Trunk, you'll need to make sure that you have the latest client installed.  Once you have installed the latest version of Evernote, you should notice the new "Trunk" toolbar icon.

Click on the Trunk icon to start the new Evernote feature.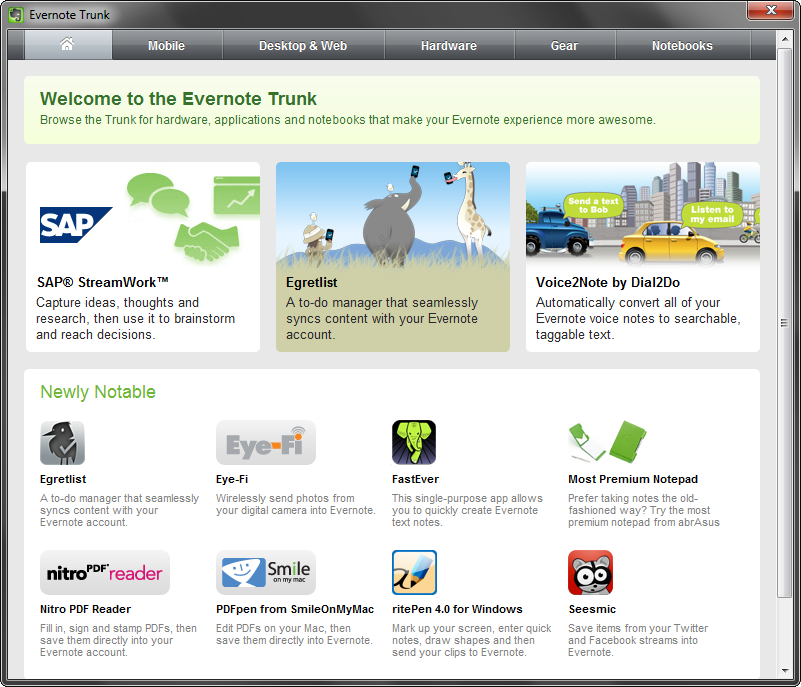 Once you have opened the Trunk, you'll see that it's divided into five categories: Mobile, Desktop & Web, Hardware, Gear, and Notebooks.  Each of these categories contains different ways to integrate with Evernote.
Some things that you are able to do with the Evernote Trunk are automatically scan files into Evernote, create and annotate PDFs, and import your Tweets.
Also released with the Evernote Trunk are a set of notebooks published just for Evernote.  Currently available notebooks include content from Make Magazine, Cool Hunting, California Home and Design, and BlackBook.  Added notebooks will appear in your personal list of notebooks and do not count against your monthly transfer limit.
The Evernote Trunk currently contains around 100 items, but more will be added soon.
Will the new Evernote Trunk change how you use Evernote?  Let us know by commenting below!
[via the Noteworthy Blog]