Welcome to another edition of Android App Roundup! This week I'll be taking a look at SystemPanel, an awesome task manager/system monitor application, while Evan tells you about Ringdroid, an app that lets you easily create your own custom ringtones.
As before, if you have a suggestion for an app that we should talk about let Evan or me know via Twitter, send us an e-mail, or hit us up in the comments below.
Kevin's Pick: SystemPanel
Dozens of task managers and monitors can be found on the Android Market, and sometimes it can be difficult to figure out which ones are worth downloading and which ones are trash. SystemPanel manages to combine a task manager and system monitor into an effective package.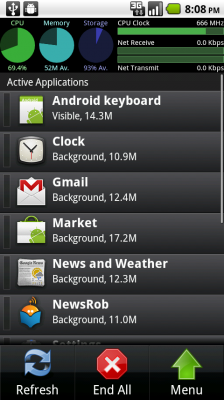 SystemPanel presents you with a wealth of information right when you start it up. At the top you can quickly see vital system information such as CPU and memory usage and any current network traffic. Most of the main screen is taken up by the task manager, which shows you a list of applications currently in memory as well as running applications that have been swapped out of memory.
Clicking on a process gives you even more information, such as when it was started, how much CPU time it has consumed, and, in the paid version, a history of its CPU usage since it was started. The latter can be incredibly useful when trying to track down a battery hungry process. There are also options to exclude the process from the list or to terminate it.
In the options menu you can find an even more comprehensive system monitor. You can see graphs of your CPU and network usage over time and battery information, among other things.
The free version of SystemPanel offers quite a bit, but the paid version does add some features worth paying for. One such feature is an app manger that lets you install applications from .apk files on your SD card and make backups of apps you already have installed. The most useful feature of the paid version, though, is the aforementioned long term system monitoring tools. If you're having battery troubles, or just want to see what your system activity looks like, those tools alone are worth the $2.99 price of the full version.
SystemPanel can be found by searching the Android Market, or by scanning the code below with the Barcode Scanner application.

Evan's Pick:  Ringdroid
Kevin and I write this article separately, so I'm always excited to see what he picks.  So before I explain my choice, let me echo his recommendation for SystemPanel.  I loved it when it was a free beta, and I bought the full paid version when it became available.  This is definitely an app worth getting.  Now for my recommendation…
I like making my own ringtones.  This is usually because I'm the guy with things like the Double Rainbow song as my ringtone, and I'm also leery of spammish websites that offer free ringtone downloads.  Ringdroid is a free application that lets you create custom ringtones from any audio file on your phone.
When you open Ringdroid, you'll see a list of the media files on your phone with a handy search.  Touch a song to begin editing.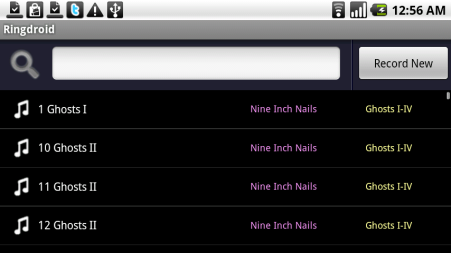 Ringdroid's audio editor is very simple to use and offers a simple interface similar to ones found in Goldwave or Audacity desktop applications.  Use the two sliders to select the beginning and end of your ringtone, allowing for about 30 seconds worth of music.  To be more precise, you can zoom in to set the start and end bars at the right locations.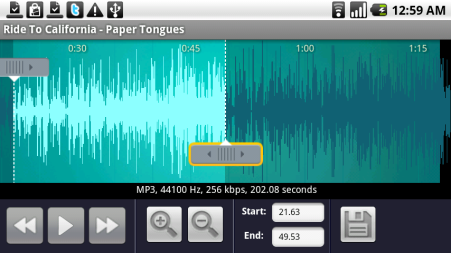 When you're satisfied with your selection, press the Save button.  You aren't just limited to saving a ringtone, you can also create a notification file or alarm.  Ringdroid will allow you to set the new file as your default ringtone or assign it to a specific contact when you're finished.
Ringdroid is a great way to add a personal touch to your phone, and if you're buying your ringtones – don't!  This application does a great job and is very easy to use.  To download Ringdroid,  search for it in the Android Market or scan the barcode below.