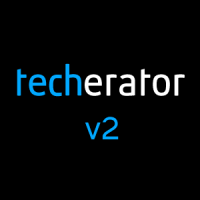 You may have noticed we've been a bit quiet lately – well, today we can finally divulge the big news.  For the past few weeks, we've been stealthily putting together the new version of Techerator which officially launched today!
This new version is a complete visual redesign, but we've tried to preserve the overall layout from the original design so you'll still be able to find the information you want.
New Features
Simpler Categories
Our main focus for the new look was to improve the visual experience of Techerator and make the site easier to navigate.  Along with the fresh coat of paint, we've also fully redesigned the way our categories function help you find the topics you're most interested in.
New Ways to Share

Another new feature in Techerator v2 is the Facebook Like button.  Now that Facebook allows you to show your interest in topics all over the internet, you can click the Like button at the top of any article to show you liked the article or topic.
The TweetMeme retweet button is also included at the top of all posts if you would like to share on Twitter.
New Commenting System Powered by Disqus

Along with the new update, we also revamped our commenting system and changed over to Disqus comments.  The new comment system will function similarily to the old one, but you'll have more options for logging in and several new commenting features.
With Disqus comments, you can log in with Twitter, Facebook, OpenID, a Disqus account, or post as a guest.  If you want to give it a try, you can check out the new commenting system at the bottom of this post!
Techerator Mobile
If you're browsing Techerator.com with a mobile device like an iPhone, iPod Touch, Android phone, or dozens of other devices, you'll now have access to Techerator Mobile, a lightweight and easy-to-navigate mobile version of the site.  This site is fairly vanilla for the moment, but new features will be added over the next few weeks.
If you prefer to view the full site, simply click the Exit the Mobile Version link at the bottom of any page.
You Can Help!
We've spent a lot of time tweaking and testing, but we could still use your help making the new website as robust as possible.  If you find any bugs, glitches, missing features, or simply something you would like to see – please post in the comments below or send us an email at tips@techerator.com.  We try to make this site accessible to a wide variety of browsers and operating systems, so your help is critical to reach that goal.
I'd like to extend special thanks to Brian Nelson for his CSS and graphic design mastery, as well as everyone who helped test and debug the new site.
We hope you enjoy the new look, and as always, thanks for being a part of Techerator!