Subsonic is free, open-source, and cross-platform software that allows you to easily stream your music library to any flash-enabled web browser and many portable devices.  Subsonic features a powerful and user-friendly interface that offers a high amount of customization.
In this guide, I'll show you some of the main features of Subsonic.
Cross-platform Support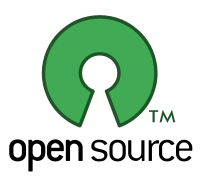 One of the best features of Subsonic is its cross-platform support.  Built upon Java technology, Subsonic has versions available for Windows, OS X, Linux, and any other operating system with Java installed.  The Subsonic website also includes documentation on setting up the software for your operating system making installation and configuration as easy as possible.
Web, Desktop, and Portable Device Interfaces
The main way to access your Subsonic library is through the web interface.  The web interface is easy to use and feature rich.  Subsonic also features an API which has allowed the development of other ways to access your Subsonic including an iPhone app, an Android app, and an Adobe AIR app.

Transcoding
Subsonic features transcoding support which enables you to play content through Subsonic that may not otherwise be playable.  While most music libraries contain MP3 files, some may include WMA, OGG, FLAC and other formats.  If your library contains any formats other than MP3, then transcoding is definitely a feature for you.
Note: The Windows version of Subsonic includes the necessary files to enable transcoding support.  Extra configuration may be necessary for other operating systems.
Uploading and Downloading
Subsonic not only allows you to stream your music library but also upload and download your music files.  The uploaded and downloaded files are automatically stored in a ZIP file for easier file transfers.
Podcast Download & Playback
A really nice feature of Subsonic is the added podcast download and playback support.  Subsonic allows you to add your favorite podcast feeds which are then automatically downloaded and stored for your enjoyment.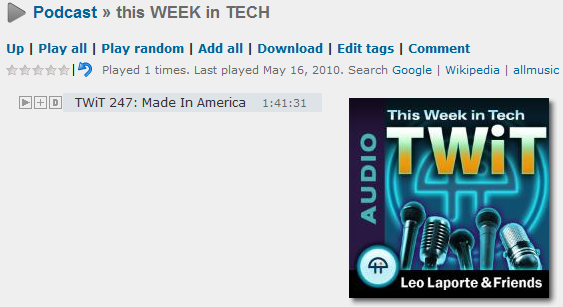 Many More Features
Subsonic has many more features including: album art updates, lyrics, savable playlists, Last.fm support and more.  Subsonic also includes an extensive settings menu that allows you to configure the software to fit your exact taste.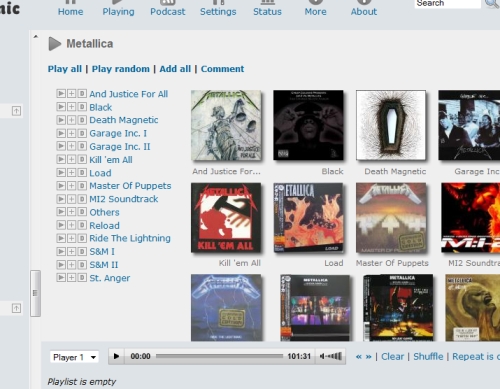 Give Subsonic a try and let us know what you think about it by commenting below!