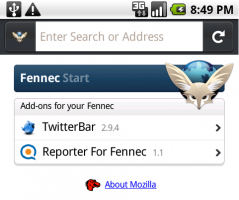 Last week, a pre-alpha build of Firefox Mobile for Android, codenamed Fennec, was made available for download. Following in the footsteps of the version already available for Nokia's N900, Fennec looks to bring Firefox's standout features such as the Awesome Bar, add-ons, and cross platform browser syncing via Mozilla Weave to the Android platform.
I've been playing around with Fennec for the past couple of days, and while it's clearly a work in progress, what they have so far shows tremendous promise.
The first thing you'll notice when using Fennec is it's large installation size. Once installed, Fennec takes up a hefty 30MB of space, so if you're using a device with a low amount of internal memory (like the Motorola Droid) you'll want to make sure you have enough free space before installing. This size will surely be reduced in the final version, but for right now you're stuck with it. Fennec's memory usage also hasn't been optimized yet, so expect it to gobble up any available free memory.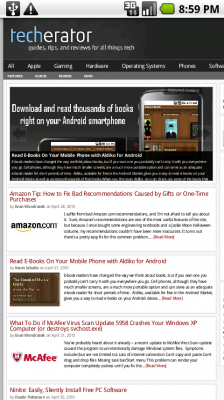 The second thing you'll notice is it's speed, or more accurately, it's lack of speed. In it's current build, Fennec is slow. It's slow to boot up, and pages are slow to render. When pages load, scrolling around them is slow. I've heard reports that it's not quite so bad on higher end phones like the Nexus One or HTC Droid Incredible – but on the Motorola Droid I'm using, browsing becomes an exercise in patience.
These downsides are, of course, due to Fennec being so early in development – but keep in mind Fennec certainly won't be replacing your current browser of choice just yet.
On the positive side, Fennec appears to be quite stable. While it can take a while to close, I've never had it outright crash or lock up my phone in the few days I've spent with it. For a product so early in development, this is a great sign.
Internet pages are usually rendered quite well, but navigation can be a bit of a pain. The only form of zoom supported so far is via double tap. Multi-touch isn't available yet, and there isn't even something similar to the magnifying glasses found in Android's stock browser. Unfortunately this means that on some pages you'll be squinting to read text.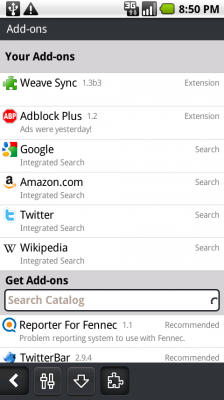 Feature-wise, Fennec looks to be shaping up quite nicely. Fennec already supports several add-ons, including Weave and Adblock Plus. The Awesome Bar works just like its desktop counterpart, providing easy access to frequently visited sites. Tabbed browsing is smoothly integrated, with a list of currently open tabs accessed by swiping to the right.
It might not be quite ready for prime time, but Fennec will definitely be making a splash in the Android browser market when it's officially released. There are still quite a few kinks to be worked out, but once they are resolved Fennec will be quite an attractive option for Android users.
If you would like to install this early build of Firefox Mobile on your own Android device, you can find it here, along with additional notes and instructions on installation as well as how to enable Weave. Note that Fennec requires Android 2.0 or above.
Have you had a chance to try out Fennec for Android? Let us know about your experience below!