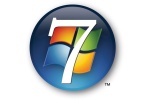 Microsoft's newest operating system, Windows 7, contains many new features unseen in previous versions of Windows.  Sticky Notes is a useful new feature that allows you to place virtual notes on your desktop.
To start Sticky Notes, navigate to Start > All Programs > Accessories > Sticky Notes or open the Start menu and type "sticky" into the search box.
A blank note will appear after you open the program.  Clicking on the note will allow you to edit it and add text, and a note can be easily moved anywhere on the desktop by simply clicking and dragging.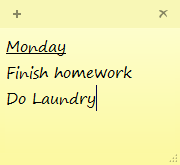 Sticky Notes also allows extra formatting features such as Bold, Italic, and Underline with the respective keyboard shortcuts Ctrl+B, Ctrl+I, and Ctrl+U.  You can also change the color of your Sticky Notes by right-clicking a note and selecting the color of your choice.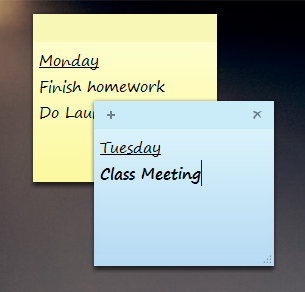 To add a new note, click the + sign on an existing note or use the Ctrl+N keyboard shortcut.  Click the X on a note to delete it or use the Ctrl+D keyboard shortcut.

For easy access to your notes, simply pin the Sticky Notes program to the taskbar.
What do you think of the Sticky Notes feature of Windows 7?  Let us know by commenting below!