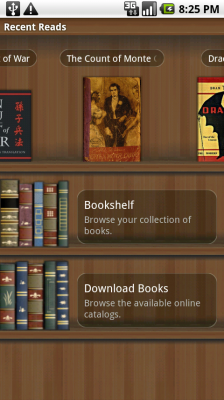 E-book readers have changed the way we think about books, but if you own one you probably can't carry it with you everywhere you go. Cell phones, although they have much smaller screens, are a much more portable option and can serve as an adequate e-book reader for short periods of time. 
Aldiko, available for free in the Android Market, gives you a way to read e-books on your Android device as well as access to thousands of free books.
When you first open Aldiko, you can check out some of the books that come preloaded with the application or browse the list of freely available books available for download.  This free list of books includes classics like The Count of Monte Cristo, Moby-Dick, and Treasure Island. If none of those pique your interest, Aldiko also lets you import your own e-books.
Opening Other E-Book Formats (Including DRM Protected E-Books)
Since Aldiko only supports non-DRM protected ePub books, you might have to do a little bit of work to make books you already own available in the application. If you own e-books in formats other than ePub, Calibre can be used to turn them into an Aldiko readable format. Calibre accepts quite a few formats as input, including PDF, RTF, HTML, and TXT (a full list of input formats can be found here). PDF files don't always convert nicely, but they're usually readable.

If you want to import a DRM protected e-book into Aldiko, such as most books available through Amazon, you'll need to work harder still. First convert the DRM protected file to an unprotected format supported by Calibre (here's the complex process for doing so for Amazon's AZW format). Then you can feed the resulting file into Calibre to get the ePub file that Aldiko requires.
Once you have the ePub files for the books you want, the next step is to import them into Aldiko. Thankfully, this is a fairly simple process. On your phone's SD card you'll find a folder called 'eBooks'. Inside that folder create a folder called 'import'. Move all of the e-books you want to import into that folder. On Aldiko's main page press the Menu button on your phone, than click Import. Click Import again, and Aldiko will scan the folder you just created for e-books and import them into your bookshelf.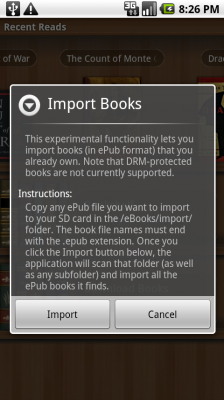 Now that all of your e-books have been imported, it's time to start reading!
Using Aldiko as an E-Book Reader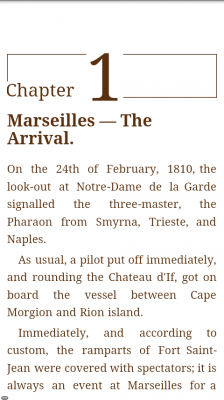 On Aldiko's main page you can see some recently read books (you can remove books from this list by long pressing on them and clicking 'Remove from Reading List'). Click on Bookshelf and you'll find a list of all books available to read.
Once inside a book, the controls are pretty simple. You can either tap on the right or left hand side of the screen or swipe left or right to turn pages. The brightness of the screen can be adjusted to your liking by scrolling up or down on the far left hand side of the screen.
Even more options, including font selection, bookmarking, and searching can be accessed by pressing the Menu key on your phone. Once you're done reading, clicking the Back button on your phone will bring you back to Aldiko's main page, with your place in the book saved for the next time you open it.
Aldiko can be freely downloaded by scanning the QR code above or by searching the Android market for "Aldiko".
Want to see more?  Check out the video below.