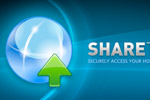 ShareTool by Yazsoft is an application I've been using on my Macs for the last year or so, and it offers the easiest file sharing of any services I've used.  ShareTool is a great way to stream your music library and remotely access your Mac from anywhere.
Why use ShareTool?
Let's say you have a Mac at home and a Mac at work, or maybe you travel a lot and can't take all your files (like your music) with you. ShareTool provides the perfect solution for these problems: it allows a person to access his/her home computer from any place with an internet connection.

For example, I keep my relatively large music library on a Mac Mini at home. I work on an iMac at work. I can't transfer all my music to my work computer and then worry about it being synced, kept up-to-date, etc. – so I turn on ShareTool at home, turn on ShareTool at work, and my iTunes library pops up under 'Shared'.
The real beauty of ShareTool is how invisible it is. Once you're connected, everything shows up on your Mac exactly like you are connected directly to that remote network.
Not just music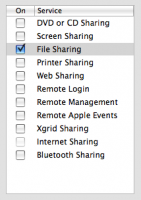 While ShareTool is great for iTunes sharing, that's not the only thing it's good at. Any Bonjour services that are enabled on your home computer are accessible to ShareTool (via System Preferences>Sharing).
I can't tell you how many times I've needed a file on my home computer while I'm at work or away on vacation. ShareTool makes file sharing as simple as mounting an external drive since it adds the home computer right into the sidebar of Finder.
Screen sharing is also available through ShareTool and it's a joy to use. One click and you're controlling your home computer. This feature is also very useful for a quick preview of larger files.
While ShareTool may not transfer files as intelligently as software like Dropbox, it's great to be able to browse my entire desktop at any time.
Negatives
While I don't have much to complain about with ShareTool, there are a few downsides. My biggest gripe is that the host computer needs to remain on for it to be useful. This is a rather obvious point but it does mean more electricity usage. There are some options for remote waking of computers, but I haven't had a chance to fool around with those.  Luckily for me the Mac Mini is so power efficient I haven't noticed an increase in my electric bill.
The only other thing I have a slight issue with is the need for ShareTool to be installed on each computer that's being used. It's not just a process that runs on the home computer; a ShareTool license must be purchased for each unique Mac. For their part, Yazsoft does a pretty good job of offering bundles for ShareTool and their other Mac apps (SpeedDownload for faster downloads, and Playback to enable media sharing with PS3, Xbox 360, or other UPnP devices).
Conclusion
If easy sharing between Macs is what you need, ShareTool is the way to go. It's cheap, easy, and works really well. At $20 for one license or $30 for a bundle of 2, this program is a bargain.
What other Mac apps do you use for screen sharing? Let us know in the comments.