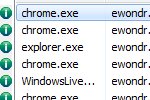 The Windows Task Manager is a system utility included with all versions of Windows that allows you to view details about the applications that are running on your PC.  When looking at the Task Manager, you'll probably see a long list of ambiguously named processes – so how do you know what those processes are?
ProcessQuickLink is a free utility for Windows that adds information about your processes directly to the Windows Task Manager.  After installing ProcessQuickLink, open the Task Manger by pressing CTRL + SHIFT + ESC (this keystroke combination will take you directly to the Processes tab).  You will now see a green icon next to each entry which you can click to view detailed information about that process.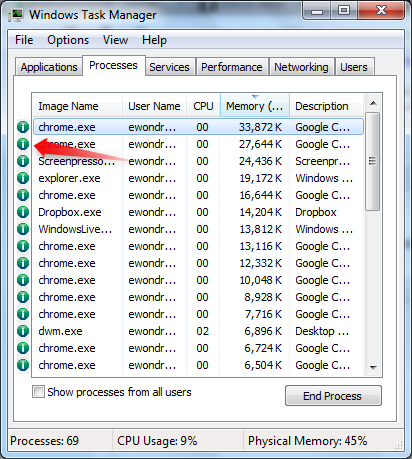 Clicking the process information button will take you directly to the ProcessLibrary.com process database.  This website includes general data about the process and can even tell you if the process is harmful and should be removed.

Note: ProcessLibrary.com advertises services to scan your computer to improve its performance.  If you think your computer may be infected, I highly recommend running a scan using free software like Microsoft Security Essentials in lieu of their scanning software.
ProcessQuickLink is a great way to get insight on the applications that are running behind-the-scenes on your PC and is a free download for all versions of Windows.