I recently asked my friends on Twitter what they used for their browser start page, and it seemed like most people used about:blank, Google/Firefox Start, or iGoogle.  I personally use iGoogle because I can combine a lot of information into one page, but I often find myself wanting something a little simpler.  Fav4.org is an browser start page that offers just that.
Fav4 is very simple – you can choose four of your favorite sites to have displayed on your browser start page.  When you first visit Fav4, you'll be greeted with four very large buttons for Facebook, Flickr, Gmail, and Twitter.

Changing the four sites displayed is very easy, just click the Site Settings button in the bottom right.
You can then click the Config tab to select which four sites you would like to display.  Fav4 currently supports over 130 different services, and if your favorite service is missing you can click the Suggest tab to let them know.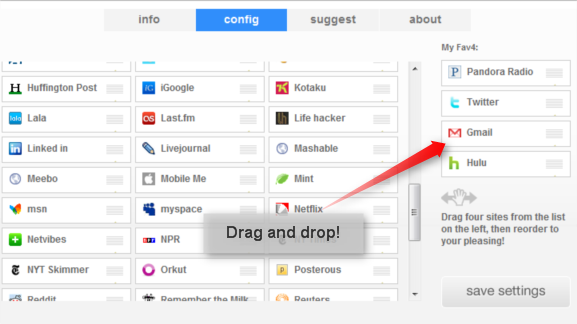 When you've finished selecting your favorite sites, just click Save Settings and your custom page will be created.  All you need to do then is set fav4.org as your browser homepage.  Check out this link for instructions on how to do this with your browser.
What do you use for your browser start page?  Share it with us in the comments below!