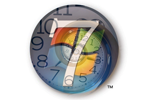 This is an important reminder to anyone still using the release candidate version of Windows 7 – even though it doesn't officially expire until June 1st, 2010, Windows 7 RC will begin to auto-shutdown every two hours starting March 1st, 2010.  Microsoft warns that your work will not be saved when these automatic shutdowns occur.

You can check out Microsoft's official statement below:
Starting on March 1, 2010 your PC will begin shutting down every two hours. Your work will not be saved during the shutdown.

The Windows 7 RC will fully expire on June 1, 2010. Your PC running the Windows 7 RC will continue shutting down every two hours and your files won't be saved during shutdown. In addition, your wallpaper will change to a solid black background with a persistent message on your desktop. You'll also get periodic notifications that Windows isn't genuine. That means your PC may no longer be able to obtain optional updates or downloads requiring genuine Windows validation.

To avoid interruption, please reinstall a prior version of Windows or move to Windows 7. In either case, you'll need to do a custom (clean) install to replace the RC. As with any clean installation, you'll need to back up your data then reinstall your applications and restore the data.

Thanks again for helping us test Windows 7.
So what now?  The best advice is to start making backups of your data now and install a full version of Windows 7.  You still have about two weeks before the auto-shutdowns begin, which gives you plenty of time to prepare your data.  If you haven't already purchased Windows 7, you can find it on Amazon.com
.
Unfortunately, Microsoft doesn't let you upgrade RC versions of Windows 7 to the full version of Windows 7, but that doesn't mean it can't be done.  Check out this handy guide to upgrading Windows 7 RC to a full version which can save you a lot of time (and money!).
If you're really feeling cheap you can try disabling the auto-shutdowns, but this could cause some serious problems and it will always be safest to follow a legitimate upgrade path.
Good luck upgrading, I've got some backups to do!