One of the most useful aspects of Twitter is that people tweet about everything – which means there is never a shortage of commentary about anything on the internet.  Twitter Reactions is a new extension for the Google Chrome web browser that displays what others are saying about websites you view in real-time.
To get started, simply install the Twitter Reactions extension for Google Chrome.  After installation, a blue 'T" icon will now be present in your toolbar.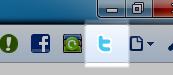 When browsing any website, just click the Twitter Reactions button to instantly view a  list of the latest tweets about the site you're visiting.  Twitter Reactions works on all websites and is especially useful on popular news articles.

Twitter Reactions is a free download and is a great way to instantly get a slice of instant commentary about the pages you're viewing.
You can watch a video of it in action below, and be sure to check out our other articles about Google Chrome extensions.