With Valentine's Day happening this Sunday, hopefully you have thought ahead and purchased your special someone a gift already.  If you haven't purchased your Valentine a gift yet, then continuing reading to get some ideas for what to get them this year.
E-Book Reader (Him and Her)
Chances are that your special someone likes to cozy up at night with a good book.  Instead of purchasing your them a paper copy of that best-seller, get them an e-book reader and the digital copy.  There are two main e-book readers to choose from, the Amazon Kindle and the Barnes & Noble Nook.  Although both items have their fans and opponents, I'm sure that this gift would be well-received and able to be enjoyed by all.
iPod Touch (Him and Her)
If you're looking for something that can be enjoyed by your special geek anywhere and everywhere, then an iPod Touch is the gift you want to purchase.  The iPod Touch's large capacity and the ability to install applications from the App Store make it a great gift that can be customized to fit anyone's needs.  Best of all, if you purchase your iPod Touch from Apple, you can have the gift custom engraved to add a personal touch.
iPod Touch (Customized) from Apple
Flip Camcorder (Her)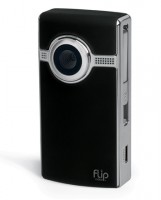 Digital cameras are great gifts, but why not take it a step further?  Flip Camcorders are small and portable digital camcorders that feature high quality video, long recording times, and come in a variety of colors and styles to fit anyone's tastes.  At only 4″ x 2″ and just over 1/2″ thick, Flip Camcorders are able to record up to 120 minutes of video.  The Flip also features a large line of accessories to connect it to your TV or computer.  The Flip is compatible with both Windows and OS X operating systems.
Heated Coffee Mug (Him)
Coffee is only good until it cools off.  Keep your special someone's coffee warm by getting him a heated coffee mug.  Some options available include 12 V heating, USB heating, and temperature gauges.
Heated Coffee Mugs at Amazon
Powermat (Him)

Chances are that your Valentine has multiple devices that need to be charged on a consistent basis.  With each device needing its own charger, the mess of cords can easily become too much to handle.  Help reduce the tangle of cords with a Powermat.  The Powermat features a universal charging system that is able to charge almost any device.  A selection of receivers is also available to add support for devices such as the iPod Touch, BlackBerry smartphones and the Nintendo DS.
Digital Photo Frame (Her)
Although they have been around for a while now, digital photo frames are still a good gift for a close friend.  With the ability to add large quantities of pictures and the addition of your special song, digital photo frames are still a well-received gift.  To make the gift extra special, add some pictures before you wrap the gift to really surprise your Valentine.
Digital Photo Frames at Amazon
Fun Tee-Shirts (Him and Her)
A fun tee-shirt is a great personal gift for you Valentine this year.  Available in all shapes and sizes, you can find tee-shirts that feature a wide range of funny and just downright geeky subjects.  Some examples include this All Your Bases poem tee and this pair of proximity sensing shirts for him and her.
Have any great Valentine's Day gift ideas we didn't mention?  Share them with us in the comments!