Now that the Google Chrome web browser officially supports extensions, great extensions are appearing every day.  I've gone through and picked ten of my favorite (and most useful) extensions so far and put them into a fancy Top 10 list.

Before you can install extensions you'll need to download and install the new beta version of Google Chrome.
1.  One Number (Google apps notifier) – Click to Install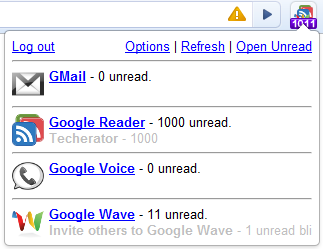 If you're an avid user of Google services, One Number is the first extension you should install.  This extension provides you with notifications for Gmail, Google Reader, Google Voice, and Google Wave.  There are several extensions that provide notifications for these services individually, but I prefer to have them under one button.
2.  LastPass (password generator/organizer) – Click to Install
I'm a big fan of Lastpass, an application that generates and stores your passwords in an online vault, so I was thrilled to see the LastPass team created a Chrome extension.  The Chrome version of LastPass provides all the support the Firefox version offers and is a great way to manage your passwords.
3.  Chromed Bird (Twitter application) – Click to Install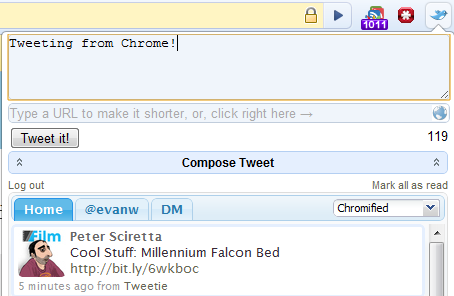 There's a Twitter app for everything, and Chrome is no different.  Chromed Bird provides a clean interface, several Twitter features (compose, reply, retweet, favorite, and delete tweets), URL shortening, and notifications.
4.  Facebook – Click to Install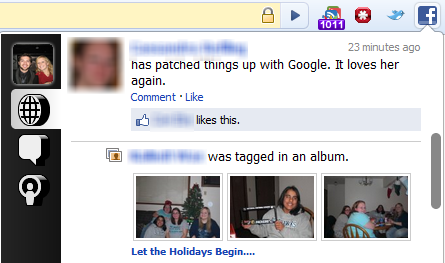 What kind of list would this be without mentioning the world's largest social network?  This extension (although unofficial) provides access to your Live Feed, Wall, and notifications.
5.  FlashBlock – Click to Install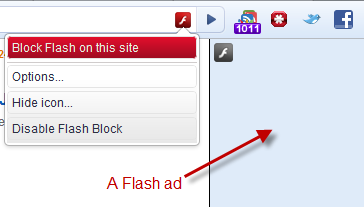 Flash content, although useful, can be pretty annoying at times (especially Flash-based ads).  FlashBlock disables Flash elements by default until you click them.
6.  Shareaholic – Click to Install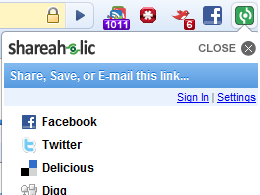 Shareaholic is one of my favorite add-ons for Firefox and allows you to share any webpage with over 80 services including Twitter, Facebook, Digg, Reddit, Delicious, and Evernote.  You can customize the services displayed so you only see your favorites.
7.  Forecastfox Weather – Click to Install

Another great add-on for Firefox, Forecastfox has been ported to Chrome and provides international weather from AccuWeather.com.  This extension includes severe weather alerts, radar, current conditions, and 7-day forecasts.
8.  Tab Menu (tab manager) – Click to Install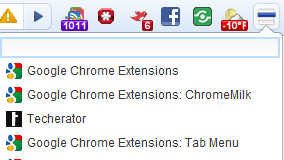 While it's no replacement for my beloved TreeStyle Tabs add-on for Firefox, Tab Menu puts me one step closer to adopting Chrome as my default browser.  This extension takes my often-overloaded tab bar and puts it in a searchable vertical list.
9.  ChromeMilk (task manager/to-do list) – Click to Install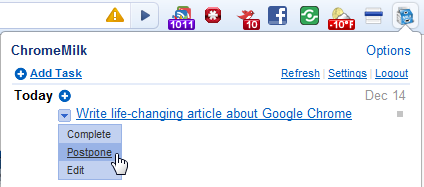 ChromeMilk lets you access Remember The Milk (a great task manager/to-do list) right from your browser.  You can manage your tasks and the button also notifies you of incomplete tasks.
10.  Woot – Click to Install

The Woot extension for Chrome displays current deals on Woot and also includes deals from wine.woot, shirt.woot, sellout.woot, and kids.woot.  If you're a fan of Woot or perhaps an enthusiastic impulse buyer this extension is for you.
Have any recommendations or is there something I left off the list?  Share it with me in the comments!