One mildly irritating bug I've noticed on my Motorola Droid is that some of my contacts accumulate duplicate Facebook profiles in their contact information.  Opening their contact information can show from 5-7 additional Facebook profiles, but they all open the correct profile page.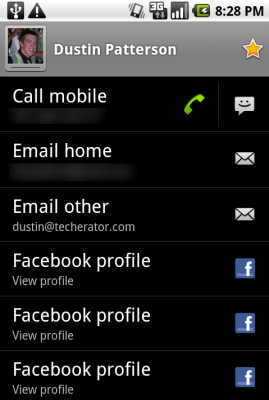 Here's a quick fix I came up with to remove the duplicates:
Open the Facebook application.

Select Remove Facebook data.  This will delete all Facebook contacts from your phone (but don't worry, they're read-only and we'll restore them in the next step).

Your Facebook contacts will now synchronize and the duplicates should now be removed.