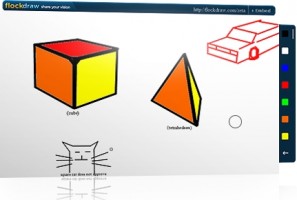 Drawing has been a medium for communicating ideas since the beginning of time, probably because of it's simplicity.  That's the idea behind FlockDraw.
FlockDraw is an amazing online application from Dan Blake (a founder of the equally simple TinyChat.com) and Ryan Hile.  The purpose is to bring collaborative, real-time drawing to the internet.
Like TinyChat, FlockDraw allows you to jump right into the action without the need to register or remember yet another username and password.  You simply click "Start Drawing" on the home screen, enter a nickname (or optionally log in using your Twitter info), and begin doodling.
FlockDraw presents you with a virtual whiteboard and tools sidebar with integrated navigation.  The vertical sidebar gives you 7 basic tools to choose from, including Brush, Eraser, Bucket/Fill, Line, Text, Brush Size, and Color Chooser.
To navigate through the different tools' options, click on the icon and the navigation quickly pops in and out to show you the different sizes that can be used.  To get back to the original set of tools, you click on the given 'back' arrow.
To add more people to your whiteboard, just copy/paste the URL and send it to a friend or embed the whiteboard within your favorite website to share with everyone.  When somebody joins, you will see their brush tool move around in real-time as they assist you in drawing.  FlockDraw doesn't have a limit on how many people can watch, but caps the amount of drawers to 50.  The application is meant to be quick and disposable – once the last person leaves the room, that whiteboard is gone.
FlockDraw is still working on a few small changes, but will retain it's easy-to-use interface.  Fullscreen mode is currently in an experimental stage with known issues with WebKit-based browsers.  For updates on the project, follow FlockDraw on Twitter @flockdraw.