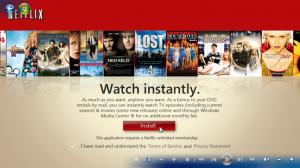 Netflix Instant Watch, a popular movie and TV streaming service, has just become available for Windows 7 users in Windows Media Center.  This feature was added for Windows Vista users earlier this year, and the Windows 7 update comes just before the official launch of Microsoft's newest operating system this Thursday.
If you haven't received the update yet, you can manually update Windows Media Center by going to  Tasks –> Settings–> General–> Automatic Download Options and click the manual update button.
Netflix Instant Watch in Windows Media Center offers you an incredibly streamlined experience if you are using your computer as a home theater PC.  In the Instant Watch application you can view your instant queue, DVD queue, and browse dozens of recommended offerings from Netflix's library of 12,000+ titles.
Want to see more?  Check out the image gallery below.
[nggallery id=5]