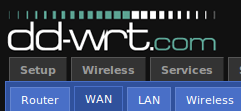 There may come a time where you have an extra wireless router on your hands (such as the Linksys WRT54GL) that you're not sure what to do with.  One thing that I have recently found useful is to use the router as a wireless adapter to connect to a wireless network.
Using a router as a wireless adapter will not only provide you with wireless connectivity, but will also give you a multiple-port switch to connect your wired devices.  This is a great way to allow multiple devices to have network connectivity without needing a wireless network card for each device.
Start by checking if you router supports a 3rd party firmware.  (For this guide, I will be using the free DD-WRT firmware).
Download and install the firmware according to the instructions for your router model.
Enter http://192.168.1.1 into your browser and login using the default credentials, which is typically a blank username and the password admin.
Click Wireless.
Change Wireless Mode to Client.
In Wireless Network Name (SSID), enter the name of the wireless network you would like the router to connect to.
Click Apply Settings.
Click Wireless Security (If the wireless network you are connecting to doesn't have security enabled, you can skip this step.)
Select the corresponding Security Mode and enter the network key and click Apply Settings.
In the top right corner of the web interface, your router should now get a WAN IP that is provided by the wireless network.
Click Setup and then select Basic Setup.
Change the Local IP Address of your router to something other than the default, such as 192.168.5.1.  This is done to prevent conflicts with your existing network.
Enter the Gateway of your wireless network.  (You can find your Gateway information under Default Gateway by entering ipconfig in the command prompt on a computer already connected to your wireless network.
Optional: Click Setup and select Basic Setup.  Under WAN Port, check the box to Assign WAN Port to Switch.  This will add the WAN port to the 4 port switch, giving you 5 ports to share the wireless connection.
Once the above steps have been completed, your router with DD-WRT firmware will be connected to your wireless network as a client just as if you connected to the same wireless network with a laptop.  Any devices that are connected to the 4/5 port switch will now have network connectivity as well.