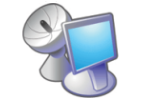 Remote Desktop is Microsoft's built-in software that allows you to access a computer from any other computer via the internet.  Remotely accessing your computer can be a valuable resource if you need access to files and other information if you do not have physical access to the computer.
Note: Remote Desktop access is only available in the Professional, Business, or Ultimate versions of Windows. Home editions cannot be accessed with Remote Desktop, but do include the Remote Desktop client so you can access other computers.

Enabling Remote Desktop Windows XP
Click Start then Right-click My Computer.
Left-click properties.
Click the Remote Tab.
In the Remote Desktop section, check the box Allow users to connect remotely to this computer.
Click OK.
Enabling Remote Desktop in Windows Vista/7
Click Start and then Right-click My Computer.
Select Remote Settings on the left.
Click the radio button Allow connections from computers running any version of Remote Desktop.
Click OK.
Once Remote Desktop has been enabled, you will need to locate your IP address which uniquely identifies your computer.  If your computer is behind a router, you must configure your port forwarding to provide access on Port 3389.  If you are not familiar with port forwarding, more information can be found here.