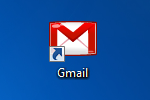 We all love the freedom and accessibility provided by keeping our email in the digital "cloud", but an inevitable problem always arises: what do we do when we aren't able to access the internet?  Or, as we recently discovered, what do we do when the our web-based email provider crashes?
One solution is to activate Gmail's Offline mode, which allows you to store copies of your emails on your computer using Google Gears (Gears is an extension for Firefox and Internet Explorer that allows internet content to be stored and synchronized on your hard drive).  When connected to Gmail, Gears will store your emails on your computer and periodically check to make sure they are updated.  If you want to access Gmail offline, Gears will allow you to use it like normal (aside from the fact that you can't send or receive messages until you connect).
Activating Offline Gmail
Step One: Login to your Gmail account and go to the Gmail Labs page.  Click the Enable button for Offline.  Click Save Changes.
Step Two: In your inbox, click the Offline button in the top right of the screen.

If you haven't already installed Google Gears, you will be prompted to do so now.  Please take heed of the message that you shouldn't install Offline Gmail if you're using a public or shared computer.  Click the Install button and follow the procedures to install Google Gears.  You will have to restart your browser once the installation is finished.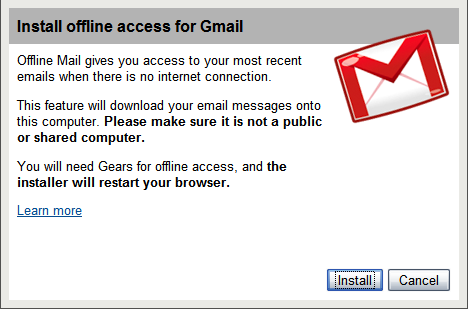 Step 3: After you have installed Gears and restarted your browser, log back into your Gmail account.  You will now be prompted to allow Gmail to store messages to your computer.  Check the "I trust this site" box and click Allow.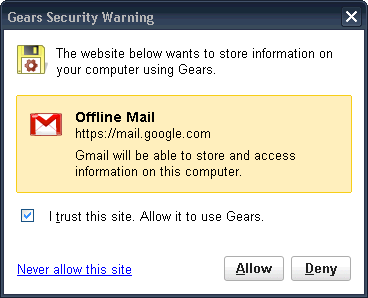 You will also be given the opportunity to create shortcuts for Offline Gmail.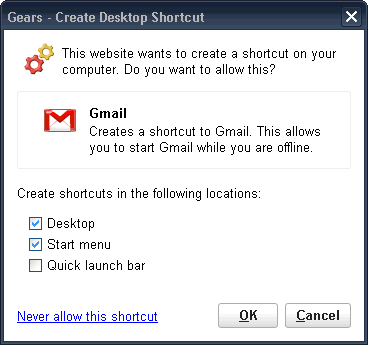 Offline Gmail will now be installed and will begin storing your messages on your computer.  This process will take some time (depending on the size of your inbox and attachments).  If you interrupt the downloading process, it will resume when you log back into Gmail.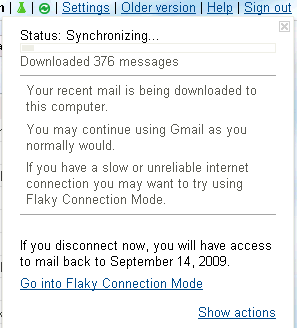 A new Offline icon will be visible in the top right of your inbox (right next to the green Gmail Labs beaker).  The Offline icon will indicate current status of your local email copies and also allow you to enter "Flaky Internet Mode" if you're having trouble connecting.
Now that you have Offline Gmail installed, you can access your email without an internet connection just by opening the shortcuts you saved to your computer.  You'll have access to all emails stored by Google Gears, but you won't be able to download new messages or compose messages until you connect to the internet.  Any gadgets you have activated will also be unavailable until you enter online mode again.
Offline Gmail is especially useful if you've got a netbook or laptop and need to access your emails on the go.  Offline Gmail saves 3 months of previous emails by default (which can be adjusted) and even stores copies of your attachments.  You can even continue composing new messages, they will just be stored in your Outbox until you have internet access.
Have any tips for staying connected when you're off the grid?  Share them with us in the comments.