"Hey! Wanna come over and play some GoldenEye?"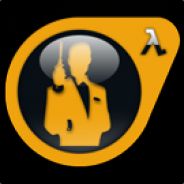 There was never a negative response to that question when I was younger.  GoldenEye 007 is always the first game that comes to mind whenever I get into a nostalgic conversation about how awesome the Nintendo 64 was growing up.  Kids my age had birthday parties that revolved around sitting in front of a 32-inch, square television, killing one another in a video game.  It's one of the most memorable games I've ever played, and helped make the Nintendo 64 console a huge hit.  Now, I can relive some of that same fun at home on my PC,  for free.
GoldenEye: Source is a project that has been in the making for some time now.  It is currently in a 3.1 Beta stage, and hasn't had any recent updates since.  Having said that, is incredibly robust and is not lacking in any way.  I have been having a blast playing GoldenEye: Source in my spare time, and haven't experienced any bugs yet.
The gameplay in GoldenEye: Source is just the same as the first: frantic, chaotic, and severely unbalanced.  I still find myself aggravated at anyone who wields the golden gun in the game, which in turn only brings back more and more fond memories.  Team GoldenEye: Source has done a fantastic job of keeping the foundations of the game the same by holding their focus on improvements to graphics, controls, and porting the game over to the generation that fell in love with it.
Getting GoldenEye: Source requires very little.  The only thing you need is a copy of Half Life 2 for PC (a game running Valve's Source engine).  Half Life 2 is sold through Steam for a reasonable price, and is often on sale through Steam's "Weekend Deals" promotions.  It's a fun, popular game with dozens of other mods besides GE:S available to download for free.  If you already meet this requirement, then head on over to the GoldenEye: Source website and begin downloading the mod.  It's well worth your while if you ever enjoyed playing the 007 game as a kid.
It's unfair in today's world to give a game like this a review score, especially one without a price tag.  I can only write this in an FYI kind of way, and hopefully attract some more players to the relatively unknown mod.  I recommend if you loved the game as a kid to definitely check it out, even if it's just to remember the kind of  classic gameplay it provided.  And don't forget to let us know what you think in the comments below!