Nobody wants to create a new account to comment on a website, so we're happy to announce that you can now comment on any Techerator article with your Twitter or Facebook accounts.  All you need to do is click the Twitter or Facebook Connect buttons at the bottom of an article, authenticate your account, and comment away!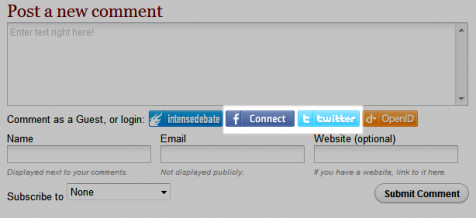 If you already have an account on Techerator – don't worry, it will still work just the same.  You can also comment with any IntenseDebate or OpenID account.
Just a note:  When you login with your Twitter or Facebook accounts, you'll be authenticating through their respective servers (so we'll never see any of your information).
Happy commenting!