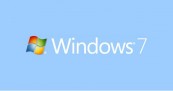 Starting June 26th, the Microsoft offers page will have a list of retailers offering a pre-order of Windows 7 so you can get a copy before anybody else at half price.   If you want to be put on the pre-order list be sure to act fast, because Microsoft says quantities will be limited.
Not sure if your computer is ready to run Windows 7?  Check our our guide to see if your computer can handle it.
Let us know about your Windows 7 experiences so far, or if you plan on pre-ordering by commenting below.