Let's face it: Gmail is fantastic and Gmail Labs keeps adding features we didn't realize we couldn't live without.  New to Gmail Labs this week is the Google Search "experiment" which allows you to perform a Google web search through a sidebar widget – all without ever leaving Gmail.  The next time you're in the middle of writing an email and can't remember the definition of the word 'Luddite', you can easily look up the answer without missing a step.
For those of you that are new to Gmail Labs, they are additional features that Gmail offers on an experimental basis with the disclaimer that they may "change, break, dissapear at any time".  However, most of these features are so useful that they will no doubt be included in future versions of Gmail.
Adding Google Search in Gmail is very easy.  Head over to the Google Labs tab under Settings (you'll have to log in to Gmail) and scroll down to the "Google Search"  experiment.  Click the Enable button and select Save Changes at the bottom of the page.

Once Google Search has been enabled, you will now have access to the Google Search sidebar widget (shown below) anywhere in Gmail.

When you perform a Google Search using the sidebar widget, the results will load in a Google Chat-esque box which displays in the corner of your screen and can be minimized or moved into its own separate window.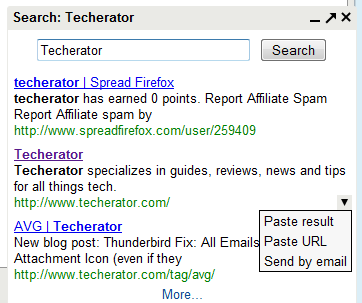 Each result contains a drop-down box that gives you options based on what you are currently doing in Gmail.  If you're reading an email, you can choose to begin a reply to that email with a link to the search result.  If you're writing a message (as shown above), you can paste the result in the email or past just the URL.  If you're currently in Google Chat via Gmail, you can send the result through chat.
One additional tip: If you've added several Google Labs features to your sidebar, you may find it getting pretty cluttered.  To deal with this, you can enable the "Navbar drag and drop" feature in Gmail Labs which allows you to easily drag-and-drop widgets anywhere you like in the sidebar.
What are your favorite Gmail Labs features?  What are some features you'd like to see in the future?  Tell us about it in the comments.