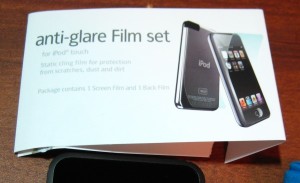 In this day and age, you don't buy electronics (especially touchscreen electronics) without investing into some form of screen protection.  For  devices such as the iPhone or iPod Touch, screen protectors can also improve the responsiveness of the device by improving the screen's traction.
The product: I stumbled upon Power Support's Anti-Glare Film for the iPhone/iPod Touch, which is available from Power Support USA as well as the Apple Store.  This product boasts a "custom-fit film that will reduce the visual impacts of glare and finger printing while providing scratch protection".  Included in the package were two anti-glare films (one for the front and another for the back) as well as a pre-installation film which was for removing dirt and dust from the screen.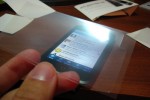 Installation: After thoroughly removing dust and fingerprints from the screen with a microfiber cloth (not included), I used the included pre-installation film to remove any additional dust that may have been left behind.  Applying the anti-glare film was simple: just peel back the protective coating and align the edges of the film with the edges of the iPod.  The film dropped down neatly on the screen and there were very few air bubbles left behind.  I removed the remaining bubbles by rubbing them with a soft cloth towards the edge of the screen, and Power Support claims that as long as dust isn't trapped under the film, any stubborn bubbles should work themselves out over time.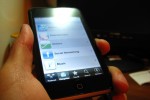 The verdict: The Power Support Anti-Glare film covers the entire front surface of my iPod Touch (excluding the home button) to protect the entire screen from damage and fingerprints.  The film dramatically reduces glare when compared to the uncovered glass screen, but it should be noted that it doesn't entirely stop glare from bright light sources (as shown in the picture).
The most significant benefit that the film provides is the greatly improved responsiveness of the touch screen due to the matte finish.  My thumb effortlessly slides across the film, which is a large improvement from the standard glass screen.  The film also seems impervious to fingerprints, which were painfully noticeable before installation. The film is fairly unnoticeable when the screen is off and nearly invisible when the screen is active.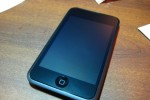 If you're looking for a good way to protect your iPhone/iPod Touch while reducing fingerprints and improving touchscreen performance, the Power Support Anti-Glare film is the way to go.